Cordall is trusted by farmers all over the world. With nearly half of New Zealand's land area being used for agricultural and horticultural purposes it is a no-brainer for Cordall to strive to provide innovative solutions for farmers and growers – rightly valued as one of the country's most important sectors.
Working alongside farmers, growers, and industry partners, Cordall has created products to resolve problems associated with animal containment, irrigation efficiency and crop management.
Developed in New Zealand conditions, Cordall solutions stand the test overseas with a growing following from agricultural and horticultural industry customers in several international markets.
In Marlborough, where it all started, Solcor solid core bungee cord has long been used in the vineyards as a tension cord for drip line. It provides the flex required to ensure there is sufficient movement for expansion and contraction over seasonal and daily temperature extremes and to absorb any machinery knocks, ultimately protecting significant drip line investment.  A solution that has been adopted in all grape, stone and pip-fruit regions around the country where the cord is regarded for its longevity –  its solid UV stabilized core and UV treated cover ensuring it stands the test of the elements.
Irrigation solutions are an ongoing focus for Cordall. Our very latest development is the Push Tap Flush Valve. Designed to be the most effective, robust and simple to use flushing solution for the expanding drip line irrigation market.
Click here to see our Push Tab Flush Valve case study.
Pip and stone fruit growers wanting to get maximum mileage out of the sun, use inter-row reflective matting which allows sunlight to reflect upwards and ripen fruit from underneath. However this mat needs to withstand service traffic. Bungee cord provides the flex to prevent damage to the mat from farm bikes, tractors and foot-traffic. Solcor solid core bungee is built to withstand the elements of this environment and has stood the test of time in orchards for this exact purpose.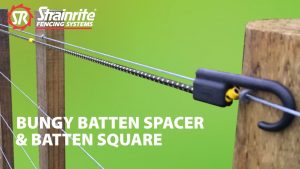 Cordall has worked alongside long-time customer Strain-rite to create the fencing solutions their farming customers need.  The latest collaboration has resulted in a bungee product designed to take the hard-work out of evenly spacing fence battens. The batten bungee spacer takes the need for measuring away and provides an easy to use system that delivers accuracy every time. A product that takes some of the labour out of labour-intensive farm work! Check out this product here.
Download